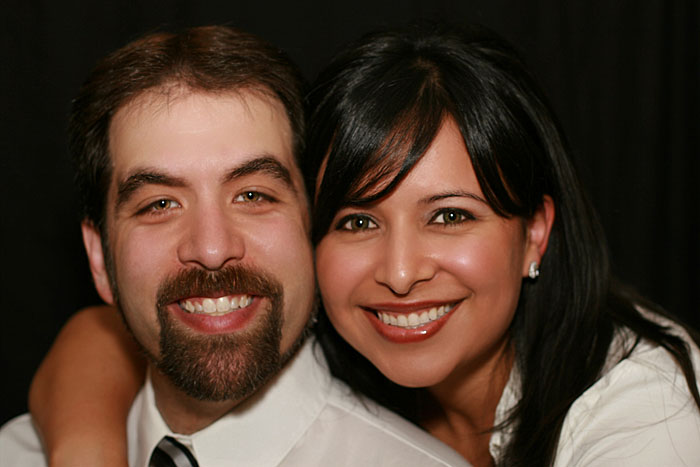 Harold Isaacs, DDS and Johanna Schaeffer, DDS
"We love our profession! We chose to practice general, family dentistry because of the wonderful relationships we get to build with our patients. It is truly rewarding to see our patients' self-esteem and confidence be uplifted with a beautiful smile, or to know that they can finally enjoy their meals without pain. We love the fine balance of art and science required to provide quality dental treatment; it is challenging and rewarding to be able to improve a patient's health, function, and esthetics. Most of all, we love taking care of our family of patients and earning their trust. Our patients' health and happiness is something that we never take lightly."
Education and Experience

Dr. Schaeffer and Dr. Isaacs at the University of Western Ontario
Both Drs. Isaacs and Schaeffer attended the University of Toronto in the early '90s for their undergraduate education and continued on to the University of Western Ontario where they earned their Doctor of Dental Surgery degrees. Dr. Isaacs also has a Master's degree in Anatomy and Cell Biology and was a high school math and science teacher for several years before deciding to become a dentist.   During their years in dental school, Drs. Isaacs and Schaeffer earned awards in the fields of periodontics, endodontics, and restorative dentistry, as well as community involvement.  Both of our dentists were accepted into highly competitive dental residencies, at Sunnybrook Hospital in Toronto, and the London Health Sciences Center in London, where they refined their skills in oral surgery, sedation techniques, and the proper management of medically compromised patients. They practiced dentistry for many years in dental offices in London, Toronto, Mississauga, and Richmond Hill before setting their professional roots in Carlisle.
Continuing Education
"Continuing education is not only a requirement for dentists, it is also the key to helping us stay on the cutting-edge of technology and techniques that benefit our patients. Dentistry is constantly changing as research and development leads to better materials and easier ways to perform dental treatment. We enjoy learning because it keeps us sharp, challenged.  We are consistently pursuing further training in order to be excellent clinicians for our patients. Our patients deserve nothing less."
Drs. Isaacs and Schaeffer are members of the Toronto Crown and Bridge Study Club and attend continuing education courses in various disciplines, including Invisalign®, restorative dentistry, cosmetic dentistry, and implant dentistry.  Dr. Schaeffer has completed several courses in cosmetic dentistry at the Las Vegas Institute for Advanced Dental Studies, and was a clinical instructor at the University of Toronto's Department of Preventive Dentistry and the University of Western Ontario Schulich School of Medicine and Dentistry, Department of Oral Medicine and Radiology.
Our dentists have held memberships with the American Academy of Cosmetic Dentistry, the Ontario Dental Association, and the Canadian Dental Association.
Outside the Office

Drs. Isaacs and Schaeffer met at the University of Toronto in 1993 and have been together ever since! They have a pet love bird named Trinity, who is more like a "puppy in a bird costume!"  In their free time, Drs. Isaacs and Schaeffer enjoy spending time with family and friends, snowboarding, swimming, scuba diving, and travelling. Dr. Isaacs enjoys photography, fishing, and riding his motorcycle.  Dr. Schaeffer enjoys reading, photo editing, hiking, and meeting new people and experiencing new places.  They both love listening to music and are passionate about supporting music education in schools.